4 Ways Real Estate Signs Can Support Your Digital Marketing Strategy
Real estate is an industry that exists solidly in the material world. In fact, it's one of the few market sectors where digital tools haven't eclipsed the need for tangible interaction and transaction. Very few people will purchase a property without physically experiencing the space they plan on inhabiting. Unlike other products or services, realty is an inherently local business. Customers are interested in purchasing properties in specific neighborhoods, even down to individual streets. It's also a business that's built on connecting with people. Selecting a property is a deeply personal process, and realtors must be able to discern what individuals are seeking. Awareness, empathy, and creativity are a huge part of matching housing and retail spaces to a buyer.
Most real estate companies make sure their business and sales models embrace a robust digital presence. More and more potential buyers look at properties online, but the decision to purchase a building comes down to visiting the physical space. Creating a thriving local real estate brand is all about repetition and continuity. A strong visual identity used in tandem with a robust digital marketing strategy provides the greatest combination of brand recognition and lead-capturing agility. Here are four ways real estate signs can support your digital marketing efforts.
1. Design and Utilize a Memorable Logo
Is it time for a logo refresh? Many real estate logos have remained the same for decades. While this is great for establishing stability and trustworthiness, using an outdated logo won't allow you to attract a new generation of homebuyers. Younger homebuyers are looking for realtors who are modern and who share their aesthetics. There's no better way to signal this to potential clients than by updating a logo. Recent redesigns by Century21 and ReMax showcase how even small design tweaks can create a compelling contemporary logo. If you're working independently, you have full control over the visual identity of your company. This is a great opportunity to debut a new logo for a new home-buying season. If you're feeling intimidated by the prospect of designing and using a new logo, we're here to help. Our in-house design team has years of experience and can help you create a striking visual identity that will capture the eye of every passer-by.
2. Get Creative with Sequential Signs
There's no reason to stick to an expected approach when it comes to attracting the eye of pedestrians or commuters. You need signage that draws attention to itself, and, by extension, to your brand. One creative idea is to use sequential signage. Staggering signs along a roadway or sidewalk can be used to create anticipation, set up a joke, or surprise an audience. Burma-Shave used this technique in the 1960s on the well-traveled Route 66, but it can be just as effective now. Sequential signs can support sports teams, showcase local color, and start a conversation. Sidewalk graphics work great for this approach. Many pedestrians have their eyes on their phones, which means they're more likely to notice what's under their feet. Direct their attention to a fantastic open house opportunity as they're on their morning run. Aim for Instagram-friendly content that's shareable, and you just might attract some new leads.
3. Coordinate a Scavenger Hunt
Many real estate companies have made their online presence a high priority when it comes to marketing approaches. Because of the nature of real estate, it's important to connect that online community with in-person open houses and face-to-face realtor-client relationships. One way to do this is through a scavenger hunt. If you have an active social media following, a scavenger hunt incentivizes visits to properties or to the office by offering a prize for visiting a variety of open houses.
First, decide what you'll be placing in each open house for the hunt. A stuffed animal, toy, or a logo sign is perfect for this activity. Place one of the objects in each open house and encourage your social media followers to post and tag pictures of the hidden objects. After the open houses, use the tags to randomly draw a participant to receive a prize. This is a great way to utilize the streams of people rolling through open houses each weekend. For the scavenger hunt, make sure to place the object in houses that are all within the same price range and are close in location. As potential homebuyers plan their open house visits, they're more likely to include a house or two they may have skipped, if they know it puts them in the running for a high-value giveaway prize.
4. Create a Visual Presence in Desirable Neighborhoods
Don't underestimate the power of "coming soon," "sold fast," or "under contract" signage. In any given neighborhood, the residents who live there may be considering taking advantage of the seller's market. As potential sellers consider who to work with on the sales side, they're taking note of which companies have houses that sell quickly. Signs that move rapidly from "for sale" to "sold" help potential clients see your work in action. It's also important to be strategic about where you're placing your signage. There are many ways to showcase your logo, even if you're not currently selling property in a desirable neighborhood. Sponsoring events run by neighborhood associations is a great way to build goodwill while helping establish your brand. When potential sellers feel like your company is a part of their community, they're more likely to entrust you with the sale of a house.
We have years of experience helping real estate providers build their businesses. When Cushman & Wakefield needed a brand refresh, we helped them create stunning signs that captured the attention of Nashville locals. As you juggle the needs of those interested in your properties, we can handle all your branding and signage needs. We'd love to meet with you to determine how we can help you make a huge visual impact on potential clients.
You may also be interested in: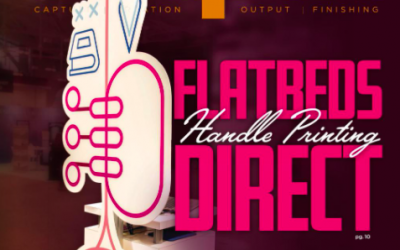 Digital Output took notice of Big Visual Group's flatbed printing capabilities in their November 2020 issue. We were honored to be featured as the cover story. We regularly update our flatbed equipment and try new technologies to increase our production capacity...