How to Choose The Right Exterior Sign for Your Business
The age-old advice you heard on the day of your first job interview was right: You only have one opportunity to make a good first impression. For your business, the first visual impression new customers have of your brand is exterior signage.
Planning to design, fabricate, and install an exterior sign can feel overwhelming, but the right team can guide you through the material options, design process, and final installation. Whether it's designed in conjunction with new construction or used to refresh an existing location, you'll need a sign that quickly and effectively communicates what your brand is about, as well as your offerings. The right sign in the right location can attract new business, solidify brand identity, and provide clarity to current customers and employees. That's why it's essential to get it right in the beginning.
Design & Style
The first step in determining the right exterior sign is to decide the type of sign that works best for your location. Depending on your organization's needs, you might consider Monument Signage, Architectural Signage, Dimensional Graphics, or even Digital Signage. The team you choose should be able to collaborate with you through an iterative process that ensures you'll be happy with the final results.
Materials
Once the design has been finalized, it's time to consider what materials will work best for your exterior signage needs. Wood, metal, glass, and plastic—or a combination of materials—can all be used to provide the strongest visual impact. Different materials project different aesthetics, so choosing materials that dovetail with the design of the sign is essential to creating a unified impression. Avoid companies that use a cookie-cutter approach for every client. Your brand won't stand out if it uses a commonly-utilized font, tired design, or sub-par materials.
Accessibility
One component some business owners forget as they plan signage is making sure wayfinding and exterior signage is ADA compliant. Planning to make your business information accessible to all ensures the safety and clarity for customers, employees, and visitors to your location. It's essential to work with a team who understands ADA regulations and how best to serve all guests that may visit an organization.
Installation
Once the sign is designed and fabricated, it needs to be installed properly to make sure it endures for years to come. You'll want to find installation experts who are familiar with all materials and installation requirements. Every building is different, and a competent team will assess building materials and adhesion techniques to ensure the signage is secure and visually clear. In particular, large-scale installations require careful planning and flawless execution. For a closer look at our installation process, check out our step-by-step walkthrough.
Empathic Design and Strong Execution
The right signage is empathic, meaning it needs to effectively serve the needs of new customers, current employees, visitors, and must be accessible to all. That's a lot of considerations to keep in mind, but our team of agency-level designers, experienced manufacturers, and meticulous installers can provide a seamless experience from start to finish. Let us help you determine the style, design, and materials that will help your business make a stunning first impression. Set up an appointment with our experts to get the process started today.
You may also be interested in: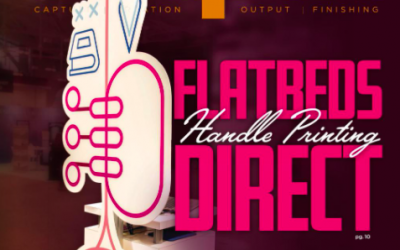 Digital Output took notice of Big Visual Group's flatbed printing capabilities in their November 2020 issue. We were honored to be featured as the cover story. We regularly update our flatbed equipment and try new technologies to increase our production capacity...