Tips for Choosing the Best Local Sign Company
There's something irreplaceable about shopping local. It offers you the chance to make a communal connection with someone in your neighborhood. As inhabitants of the same area, you'll have similar experiences and concerns. If anything goes wrong with your product or service, there's a strong personal relationship you can lean on. Working with a local brand also means they'll understand farmers' markets make it possible to buy local produce. In the same way, local cafés allow patrons to contribute their money back to the local economy. Local buying and selling creates a unique ecosystem that can support a city or region.
Of course, the benefits of shopping local also extend to include companies and service providers in a variety of different sectors. Local appliance sellers, banks, bookstores, and retail shops all offer a level of service and strong relationships that can't be found at a chain or at an online retailer. The same is true for local sign companies. Working with a sign company in your area can provide a better experience and a higher-quality product than chain or online options. We've gathered a list of the reasons why staying local matters if you're planning a major signage project.
Chain sign companies offer a cookie-cutter process and cookie-cutter results. You're usually asked to upload your logo, choose a material and size, and wait for the results. With online retailers, you won't know if your graphics were too low resolution until you open the package. If you're making signage for a special event, a poorly-designed sign can be more distracting than no sign.
At a local sign company, you'll be led through a design-focused process where you'll get to see your logo exactly as it will be printed. You'll have the chance to review and change at several points during the design process. And, if you're looking for guidance on design and style, many local sign companies have in-house designers who can help you craft something truly unique.
Plus, if you're looking for ADA-compliant signs for a major project, a chain retailer won't have the knowledge of how to meet specific federal standards. With first-time ADA violations costing fines of up to $75,000, you can't afford to guesstimate the correct font, Braille markings, or the right height for signs to be placed. You owe it to the visitors to your site to craft an accessible space where everyone feels welcomed.
Cultivate a Responsive Relationship
When you work with an online retailer who offers cut-rate vinyl banners or flimsy outdoor signage, you can count on shoddy work and no personal investment in your signage project. A local sign company will put a premium on building a relationship with customers, since their success depends on repeat visitors. A local shop will also keep your order history and logos on file, so they can easily create a new sign for a future event, even on short notice.
You may also be interested in: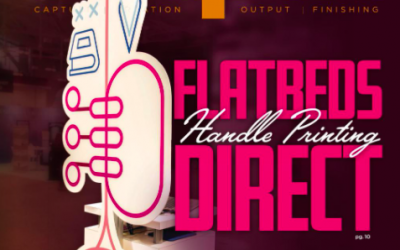 Digital Output took notice of Big Visual Group's flatbed printing capabilities in their November 2020 issue. We were honored to be featured as the cover story. We regularly update our flatbed equipment and try new technologies to increase our production capacity...