Meet the Team: Jeff Schmid
Title: Visual Identity Consultant
Roles: Collaborator, Visionary, and Enthusiastic Salesman
Hailing from Zanesville, Ohio, Jeff Schmid was an art major in college. Jeff is proud of his early beginnings in the signage world, taking on several roles from graphic design to production and installation to office manager and now sales. "After college graduation, a sign company discovered my resume and brought me onboard to do production work, and I have remained in the industry ever since," says Jeff. Though he moved to Nashville in 1999 to pursue a music career, Jeff found his way to Big Visual Group in 2010 after the company purchased Precision Sign Works, where he had worked for 11 years.
"There is this creative side of the sign business that I really like, such as going into a space and visualizing what they could get, and then selling that vision to the client," says Jeff. With sales work, Jeff understands firsthand how important it is to have a solid working knowledge about different aspects of the industry, as well as a compassion for all departments. Since he's worked in various areas of the sign industry, Jeff truly understands what each department goes through and what each area's processes and procedures will entail for all parties involved.
When it comes to a typical day on the job for Jeff, you can find him taking in client orders, performing site surveys, meeting with clients, answering phone inquiries, and writing up estimates and orders. "A big project I've been working on lately is for Lee Company. We've been doing lots of surveys and onsite meetings. It's the first time I've ever done a project this large, and it's been a neat process, because of the cohesive teamwork between fellow coworkers Jake and Ryan," Jeff says. "Seeing things we can create that I didn't even know were possible, and then making it a reality was really cool," Jeff added.
Among Jeff's favorite parts about working in the signage industry is seeing the transformation of spaces from nothing to something. Jeff loves working at Big Visual Group because of the collaborative and creative team environment. "I love investing in the wealth of knowledge from the people at Big Visual Group and seeing projects get completed because of it," says Jeff. He also appreciates how Big Visual Group always has an answer for any type of project. "We've all done different types of jobs, and being able to yell over my desk, 'Have you done this or that?' is fun," Jeff adds.
Outside of the office, you'll find Jeff doing a variety of artistic things. In addition to singing and piano, he enjoys photography and landscaping. Jeff met his wife in 2002, and they got married in 2004. They have two kids—a boy and a girl—ages 9 and 11. Jeff loves being a dad and spending time with his family. Jeff also sings at his church, where they are currently recording a Christmas album. You can also find this guy writing songs in his spare time, and you can even catch him doing a concert on occasion!
You may also be interested in: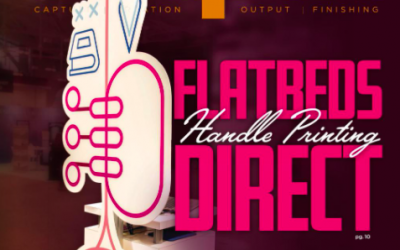 Digital Output took notice of Big Visual Group's flatbed printing capabilities in their November 2020 issue. We were honored to be featured as the cover story. We regularly update our flatbed equipment and try new technologies to increase our production capacity...