A Titans Season to Remember: Adapting to Change & Expecting the Unexpected
Big Visual Group has partnered with the Tennessee Titans to provide them the best sign and print products since 2010. We have tackled interesting projects with the team, such as the Nissan Stadium rebranding in 2015, but 2020 might be our most unique season with them yet due to COVID-19.
"If I could put our goal for this season into a simple phrase, it would be adapt to constant change and expect the unexpected", said Jay Mann, the Big Visual Group Sales Consultant for the Titans. Our team is no stranger to the many companies who have had to adjust to the "new business as usual" this year. We normally host a lot of in-person meetings with the Titans staff to discuss projects, brainstorm ideas, and discuss potential roadblocks which have now turned into virtual discussions to make sure everything is still handled with utmost care. Also, Nissan Stadium usually has our Titans signage throughout it but now it has switched to Titans signs mixed in with COVID signs.
We have created hanging wall and floor signs to remind people to wear their masks and practice social distancing. We've branded concession stand sneeze guards, locker room dividers, and more — but the fan cutouts seen throughout the stadium might be our favorite product so far! Check them out in the below pictures and by clicking here.
The sheer volume of pieces needed to be compliant with all of the new regulations regarding COVID-19 has been huge, and we work hard to make sure all regulations are followed for everyone's safety. It takes time for the NFL to establish safety protocols, and our crew has completed long lists of projects while waiting on final confirmations up to the last minute.
Handling all of the print and sign work for the Titans is an enormous responsibility and one that we don't take lightly. Our internal staff and the talented Titans team have worked hard to make sure that the football players and fans remain proud to physically or virtually walk into Nissan Stadium each week!
You may also be interested in: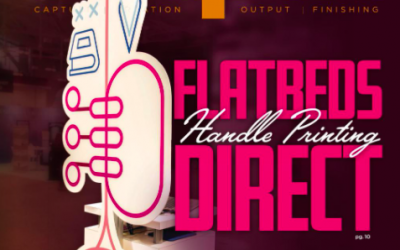 Digital Output took notice of Big Visual Group's flatbed printing capabilities in their November 2020 issue. We were honored to be featured as the cover story. We regularly update our flatbed equipment and try new technologies to increase our production capacity...