How To Successfully Market March Madness® at Your Bar or Restaurant
From Sunday Selection to the National Championship, March is one month when sports fans head out in droves to bars and restaurants to watch their favorite teams engage in high-octane competition.
When fans are considering where to go to watch the games, you want your location to be at the top of their list. March Madness® can be a great time to connect with local fans and to build a reputation for being the best place to watch the game. Frantically filling out brackets can really bring a city together. And, with a little advance planning, your business can showcase your commitment to your local school and the fans who love it. Here's how:
Big Screens = Big Wins
Make sure your televisions are fully operational and that sight lines from barstools and seats are clear. Try to have all televisions tuned to a variety of different games so that patrons can find the competitions they want to watch. The first weekend's games always attract large groups for watch parties, so you'll want to have extra staff on hand for crowds. (Plus, no one's bracket will be destroyed yet, so spirits will still be high.)
Focus on Food
The right eats can be just as important as the game itself. Is it really March Madness® without basketball-orange fingers from fiery hot chicken wings or dousing the heat with a favorite brew? Local breweries often want to get in on the action. Commissioning a March-themed beer from a craft brewer can serve as another draw for fans. Plus, don't forget the lunch crowd. The first games start before noon, so expect an influx of watchers early in the day. The Big Visual Group team can customize your special menu or branded brackets through a variety of customized, ​small format printing options​, which are perfect for high-quality, custom, and short run projects.
Promotions, Specials, and Contests—Oh My!
Fans have a lot of venues to choose from when it comes to watching games. Make your locale stand out by offering specials on food, brews, and swag. The increase in crowds will help make up the difference on discounted items. Research shows that 34% of consumers choose to go to bars or restaurants that offer special deals for March Madness®, so there's a strong incentive to provide great offers. Place brackets with your logo at every seat, and encourage even casual watchers to join in the fun. Raffle items like scarves, balls, t-shirts, and food and drink coupons are great ways to prominently feature your brand. Finally, get folks excited through a little friendly competition. ​Offer branded prizes​ for winning brackets, tournament rounds, or even choosing the outcome of a single game correctly.
Spread the Word With Signs and Swag
Once your space is ready for action, it's time to bring in the crowds. Start with clear, compelling signage outside your location, on major roadways, and in local publications. ​Large banners​ have instant impact, and ​custom window graphics​ will set the tone for the entire tournament. Don't be afraid to get creative with how you get the word out. Everything from a simple A-Frame sign​ to a ​custom vehicle wrap​ can help you promote your venue as a place for people to gather.
This isn't the time to skimp on decor. You want fans to know that your business is a huge supporter of the championships. Fans love being with other fans, so use stunning visuals to communicate that you're a haven for diehard enthusiasts. Go big with quirky slogans and bold imagery. Consider customized coasters or shirts with your logo to commemorate the games.
Find a Teammate Who Can Catch Every Pass
For big images that make a big impact, Big Visual Group can be your point guard. Our agency-level designers can help you craft ​a suite of branded materials​ to prep for one of the industry's biggest months. ​Contact us today to start creating no-hassle, high-return visuals​ for the month of March and every other month as well.
You may also be interested in: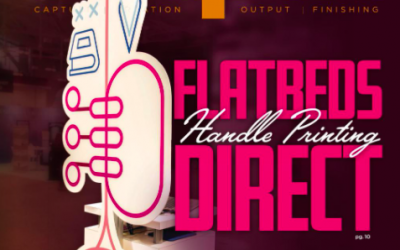 Digital Output took notice of Big Visual Group's flatbed printing capabilities in their November 2020 issue. We were honored to be featured as the cover story. We regularly update our flatbed equipment and try new technologies to increase our production capacity...