3 Industries That Use Creative Vehicle Magnets To "Stick" In a Customer's Mind
Making sure your brand identity is recognizable and memorable enough to linger in a customer's mind is a huge goal for many businesses. That's because a memorable visual impression is essential to building brand recognition and remaining relevant in competitive markets. Through the use of signs and banners, you can increase your market share. But, for startups, new franchises, or businesses with lower liquidity (such as restaurants), there's a low-cost way to capture the attention of potential customers: vehicle magnets.
Vehicle Magnets for Restaurants
As more and more restaurants offer delivery options, vehicle magnets become a cost-effective way to advertise your company's brand. While drivers are out delivering appetizers, pizzas, pasta, salads, and everything in between, they're passing hundreds of potential customers on the road. Using a vehicle magnet can help you capture some of these glances and turn them into additional meals sold. It's a handy way to mark delivery vehicles, particularly if drivers are using their own cars. Magnets that attach to a vehicle are a classic approach for many fast-casual restaurants. Using this type of magnet can give your restaurant the marketing recognition of a national chain, even if you're a local restaurateur. Using fleets of cars as mobile advertisements help you find customers where they are—hopefully with a growling stomach in a traffic jam.
One of the strongest arguments for using vehicle magnets for restaurants is their inexpensive cost. Since restaurants are constantly promoting specials, offering deals and lowering prices on certain items, new magnets can be changed out or reordered to capitalize on a current marketing push.
Vehicle Magnets for Professional Services
When outfitting a fleet of professional trucks using custom vinyl vehicle wraps isn't an option due to cost, vehicle magnets can provide a similar functionality for a lower price. It can also be a more practical solution if your team uses their own vehicles. Often, contract workers or employees like the convenience of using their own vehicle to transport them to a job. It can save them time in the morning when they're heading to a job site, and it gives them the flexibility of keeping their equipment ready to go at a moment's notice.
However, any personal vehicle used as a work vehicle without company branding is a lost opportunity to share the word. So, many professional services get leads from people noticing that their neighbors are employing a particular contractor or company. Through the unspoken endorsement of a trusted neighbor, that person is more inclined to contact the company for work they may need done. In the best-case scenario, they may even be inspired to call and schedule a service they hadn't previously considered. If your employee has an unmarked car, this opportunity is lost. Vehicle magnets are a great way to dip a toe into the waters of advertising and customer retention, and it provides a strong ROI for the price.
If your company of plumbers, pipefitters, roofers, landscapers, or handymen are often at job sites, magnets can be a great choice. They're incredibly strong and durable, which makes them well-suited to heavy use. And, since they're easy to clean, remove and re-stick, they're perfect for trucks at a job site that might be covered in dust, dirt, or mud.
Vehicle Magnets for Franchises
Opening a franchise can be an excellent way for an entrepreneurially-minded person to set up their own shop, while retaining the legal protections and quality control services of a larger franchise company. These franchises usually have national budgets for advertising on a large scale. Yet, enterprising business owners want to promote their own franchise location at a local level as well. With a small budget, how is this possible? If franchise owners or employees will be representing the business in the community, a vehicle magnet can identify the car or truck as a representative of that brand. Seeing a consistent brand logo on cars and trucks can also reassure current customers that the person arriving at their house is connected to the franchise. For franchises that require a fair amount of travel, such as cleaning services or pet care, having a vehicle double as an advertisement is a great investment. Franchises can have a fair amount of employee turnover or seasonal workers, and vehicle magnets can be easily transferred from car to car. As the franchise continues to grow, it's a minimal investment to add additional vehicle magnets to the fleet.
A Strong Force to Attract Customer Attention
Magnets lift trains, fascinate kids, and keep art projects stuck on your fridge, but they can also harness the attention of your customers. If you're interested in learning more about how vehicle magnets can work for your company, set up an appointment with us to start crafting a plan. Our on-site designers can help you design and execute a suite of magnets that will stick to cars and in people's minds wherever you travel.
You may also be interested in: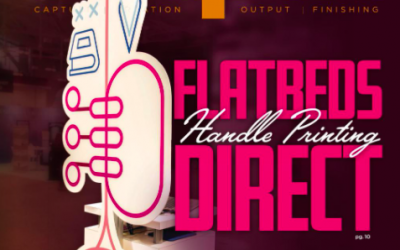 Digital Output took notice of Big Visual Group's flatbed printing capabilities in their November 2020 issue. We were honored to be featured as the cover story. We regularly update our flatbed equipment and try new technologies to increase our production capacity...