Situation
Lee Company is a $225 million mechanical contracting, facilities, and home services company with over 1,200 employees. As they moved their headquarters from Cool Springs to Berry Farms in Franklin, Tenn., they needed help presenting their brand identity through architectural signage and environmental design in their new space.
Approach
We've had the opportunity to serve Lee Company and be served by them in the past. They handled some of our plumbing jobs, and we wrapped their fleet vehicles, so we had a history. That worked in our favor, but we still needed to speak to this project and "wow" them with our vision.
"We knew Lee Company celebrated their employees, history and accolades," said Ryan Payne, Special Projects Manager at Big Visual Group. "They're successfully growing; it's a company whose leadership really puts the employees first. Everything we did wanted to celebrate the company, the employees, and their successes."
It was our lookbook that laid out our approach and vision to execute on this goal. And because we are a full-service sign and print company, Lee Company liked the fact we alone were responsible for the final outcome.
"With a project this large, there can be so many hands involved," said Payne. "But we handle everything in-house. We lead the creative effort, and we know your paint colors and we know what the building looks like. We do the design. We set up the designs to go into production and that happens one hundred feet from my office. We do the installation. If something doesn't look right, we're going to know before any time or money is wasted. Oftentimes when different agencies are involved, they handle their one area of production and hand-off the rest to another vendor — when something goes wrong, everyone will be blaming everyone else for miscommunication. With us, we make sure any hiccups are taken care of before you even see it."
It was our solid background in designing and executing environmental signage projects and a focus on culpability that won us the job.
Solution
We designed Lee Company's new office to revolve around three prominent walls. We refer to these walls as the Tenure Wall, Company Accolade Wall, and Company History Wall.
On the first floor is the Tenure Wall. Employees who have been with the company for five or more years earn their spot on the display. It's super simple for Lee Company to update and adjust over time, but it also looks like art and has a very elegant and permanent look.
Above the Tenure Wall on the second floor is the Company History Wall. It features floating shelves with actual artifacts, such as letters, pins and patches from yesteryears. It has LED lighting and multiple panels custom painted to match the color palette of the building to it flows harmoniously with the rest of the building.
The Company Accolade Wall is adjacent to the executive offices on the second floor. It tastefully displays the company's mission statement and values and successes over the years. Like the other walls, everything we did was with custom casework and wood finishes built with custom LED lighting to enrich the look.
With these walls anchoring the overall look of the space, we worked on a custom wayfinding package to fit well into the design. There is no generic ADA signage in the building. We also installed etched vinyl on basically every office window which is about a four-foot stripe that floats in the middle of the glass to provide privacy. Finally, we visited their fabrication shop to take our photos to be used in the silicon edge graphics. These are tight, abstract pictures such as HVAC coils, ductwork, and things we felt like we could make very graphic and artistic.
Results
Lee Company is very happy with the finished product and loves how easy it is to keep everything current and updated. Here's a video that shows the results of this project: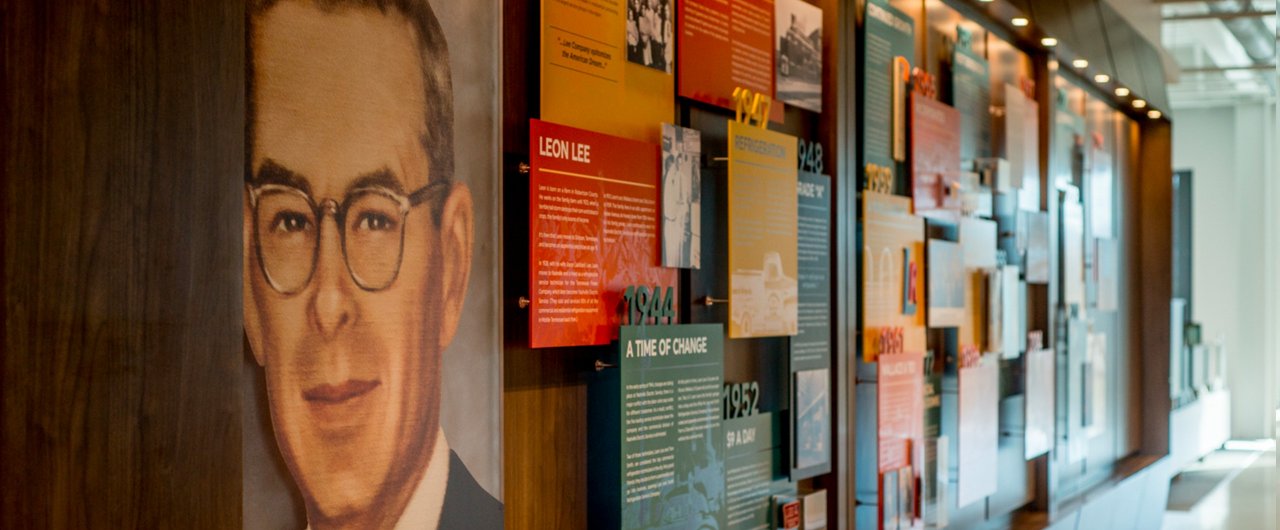 Lee Company relied upon our expertise in all phases of this project, from consultation to installation.