New Eco-Friendly Car Wrap
Big Visual Group revealed a new eco-friendly vehicle wrap to mark Cartridge World's 10th Anniversary in North America. The car wrap was introduced at the company's annual convention in Las Vegas in April 2013.
Complementing Cartridge World's line of eco-friendly ink and toner printer cartridges, the car uses the 3M®Envision™Wrap Films, new graphic materials that are friendly to the environment.
The new 3M films include bio-based manufacturing materials and exclude certain harmful chemicals, such as phthalates and halogen (which are the foundation of most plastics). The films also use 60 percent less solvent, which decreases chemical exposure. When printed with water-based inks, the Cartridge World car wrap is the most sustainable graphic solution on the market.
Big Visual Group is the only approved vendor to carry the new design. For a limited time we are offering $250 off of any new wrap or vehicle rewrap for Cartridge World Franchises. Contact us for additional discounts that may be available for wrapping multiple vehicles.
In addition to vehicle wraps we have a large selection of other items ready to be customized for your Cartridge World Franchise such as A-frame signs and bow flags.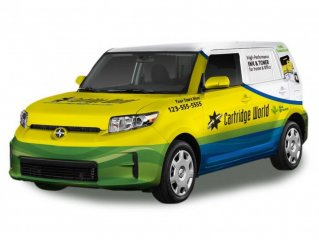 New Eco-Friendly Car Wrap
Big Visual Group has been serving the visual communications needs of businesses and organizations, across a vast array of industries, since 1994. Their graphic design and production facility offers large-scale, custom solutions including grand format printing, fleet graphics, architectural signs, digital signs, point of purchase materials, tradeshow branding and building signs.
Big Visual Group is dedicated to solving marketing and visual communication challenges by offering original, impactful and BIG solutions. A leader in producing environmental, fleet, event, tradeshow, digital and architectural signage, Big Visual provides knowledgeable insight and know-how, while offering agency-level graphic design services. To learn more, call 615-731-3700, or visit them online at www.bigvisualgroup.com.
You may also be interested in: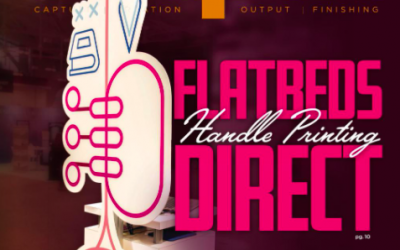 Digital Output took notice of Big Visual Group's flatbed printing capabilities in their November 2020 issue. We were honored to be featured as the cover story. We regularly update our flatbed equipment and try new technologies to increase our production capacity...