Nashville Based & Nashville Strong Since 1994
Big Visual Group chose to build our sign and print shop in Nashville in 1994. We were proud to call Music City home then and remain proud.
As the year 2020 brought challenge after challenge, each time we reminded ourselves of how we planted our roots here long ago and continue to be committed to Nashville and the community we have formed in this city.
Our employees have personally donated to local businesses to give back on their own. One employee even hosted a blood drive at his church that had the best turnout since starting the event in recent years.
As a company, we cut fabric to create over 40,250 masks that were donated to the Nashville Sheriff's Department, Vanderbilt Medical Center, and Nashville Fire Department. Our owner, Scott Snoyer, said, "Nashville has been a huge supporter of Big Visual Group for years. We are a community that knows how to rally and support each other in both good and challenging times."
We offer consultation, design, production, and installation services to our clients as a one-stop shop. To serve our clientele with what they need most right now, we created a variety of COVID-19 products to help businesses thrive. You can give us a ring at 615-731-3700 or email us at info@bigvisualgroup.com to see our COVID-19 products along with our normal sign and print offerings.
We are honored to say that we are based in Nashville. We remain Nashville Strong and look forward to serving every customer with the best sign and print experience in town!
You may also be interested in: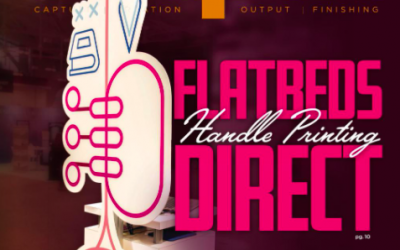 Digital Output took notice of Big Visual Group's flatbed printing capabilities in their November 2020 issue. We were honored to be featured as the cover story. We regularly update our flatbed equipment and try new technologies to increase our production capacity...