How Restaurants Can Use Signage to Improve the Dining Experience
Have you ever had a hard time finding a new restaurant you've been wanting to visit, only to realize you had already passed by it several times? Have you ever had a hard time trying to decide what to order because the menu is confusing or hard to read? Have you had to ask a waiter where to find the bathroom? If you answered yes to any of these questions, then you know the important role restaurant signage can play in your entire dining experience.
Whether you're a local food truck or a nationally-recognized chain restaurant, you realize that humans are visual creatures. The presentation of your food matters, and the same can be said for your signage. Everything from your outdoor signs to your children's menu impacts your customers' dining experience.
How Restaurants Can Use Signs to Improve the Dining Experience
Here are a few specific ways you can use signage to improve the dining experience for your customers:
1. Find a unique way to capture your customers' attention.
The most important thing your sign can do is make it easy for people to find your location. You know you've accomplished this when people automatically know where your restaurant is—even if they haven't been to it before. Finding a way to stand out and stay visible is key, especially in areas with dozens of restaurant options.
Over the past few years, we've had the chance to work with several restaurants in downtown Nashville. Our friends over at Puckett's installed a unique neon outdoor sign that visually captures the Puckett's experience. Our friends at Nudie's Honky Tonk took a different approach by going big. Both were extremely successful in capturing people's attention.
2. Make sure your signage matches your dining experience.
What kind of experience are you creating for customers? Are you more laid-back and casual or sophisticated and modern? How can you express what makes your restaurant unique through your signage? After all, signage is often the first thing people see when they enter your restaurant.
This is something our friends over at Edley's BBQ did really well. Their restaurant is known for serving some of the best BBQ in the town in an environment that celebrates everything that's great about the South. By integrating that identity into their environmental signage, their customers know exactly what they're getting before they walk in.
3. Create signage that answers your customers' biggest questions.
Think about the things your customers might want to know: What specials do you have? Where is the restroom? What are your most popular items?
Signage provides a variety of opportunities to proactively answer these questions. For example, a simple A-frame display outside your restaurant gives you the chance to update daily happy hour specials so that you can change your message to deliver the right information at the right time. You can also help guests find their way around with branded floor decals pointing the way to the bar or restrooms.
Need New Signage or Print Materials? Let's Get Cooking…
At Big Visual Group, our in-house team of sales representatives, agency-level designers, and experienced production staff can provide you with the materials your restaurant needs, including menus, table tents, tablecloths, posters, wall graphics, and more. If you are in need of restaurant branding products, we're at your service! Learn more about our restaurant signage services, check out our portfolio, or connect with our team to discuss your specific needs.
You may also be interested in: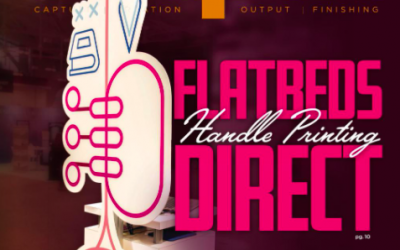 Digital Output took notice of Big Visual Group's flatbed printing capabilities in their November 2020 issue. We were honored to be featured as the cover story. We regularly update our flatbed equipment and try new technologies to increase our production capacity...