Employee of the Month: Matt Townsend
Matt Townsend is our Finishing Supervisor and an all around great guy
He has won the honor of 2016 November Employee of the Month and is beyond deserving. This friendly face has actually won the honor before, which is no surprise at all to those who know him.
Matt is a Murray, Utah native. While living in Utah, Matt met his wife, Candace. Candace just happens to be the sister of our very own Operations Director, Chris Neely. What a small world! This is what eventually led Matt to start working at Big Visual Group.
Want to know another fun fact about Matt? He speaks Portuguese! He lived in Brazil for two years after high school. After saving up some money, Matt made this move and served the people of Brazil people through a church mission.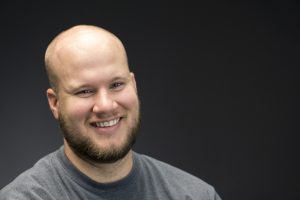 In 2006, Matt received a call from Chris in Nashville. Matt and his wife then moved to Music City, which is where he started his career in the print and signage industry. His main focus was vehicle wraps. Matt loved the work he was doing but decided to head back to Utah for a few years and work for Wells Fargo as a banker. After his stint back in Utah, Matt decided to move back to Nashville and start working for Fast Signs (now Big Visual Group). Matt took the offer because Chris has told him it was "an awesome place to work" and "Scott Snoyer is a really good guy."
When observing a day in the life of Matt, you might find him doing quality control, preparing task lists for the day, or lending a helping hand to his coworkers. Matt particularly enjoys figuring out the day's tasks, delegating the jobs, and then seeing what was able to get accomplished by the end of the day. It gives him a sense of pride and satisfaction, which is important to a hardworking guy like Matt. He also loves seeing clients receive the finished product. Matt said, "It's nice to help make something come together, and then watch the clients be blown away. Many times, the clients don't know what the end product will look like, so it's very cool to see their expressions. It's a very rewarding job."
When Matt was talking about why he likes Big Visual Group, he said, "I enjoy working with all of the Big Visual Group employees. I know so many people say that around here, but it's honestly true." We feel just as lucky to have Matt on our team, and we congratulate him on this Employee of the Month award!
You may also be interested in: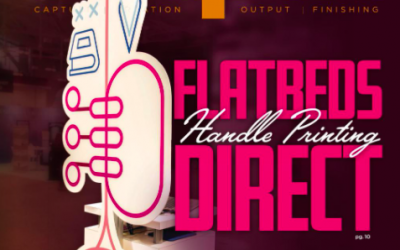 Digital Output took notice of Big Visual Group's flatbed printing capabilities in their November 2020 issue. We were honored to be featured as the cover story. We regularly update our flatbed equipment and try new technologies to increase our production capacity...