Branding Your Franchise? Here are Some Tips!
If you own or manage a franchise, it's likely that branding, signage, and graphics are some of your biggest challenges. Whether you have two locations or 2,000, it should be consistent and easy for franchisees to implement. Big Visual Group knows that you have a lot on your plate, and we are here to take a little of it off by being your sign and print partner.
When it comes to franchises succeeding with their branding efforts, the options are endless with our team. But with so many options, inconsistencies can turn your brand into a convoluted mess, which brings us to our first tip.
Consistency is Everything
The first step in branding a franchise is establishing brand standards. Brand standards are a set of guidelines that identify a company's overall look. This set of rules can include colors, fonts, and more.
For your company to look uniform across all fronts, creating brand standards is extremely important. When franchises call us, we heavily rely on these rules. If your company does not have this set of guidelines yet, our team of agency-level designers will happily help you get this job done.
Consistency is probably the reason customers choose to frequent a business over and over again. As long as a familiar brand name is on the front door, they know what to expect.
Partnering with one national signage company like us helps you keep the same look and feel across all locations. When you hire us, we work with your brand's style to ensure uniformity in ink and/or paint colors and proper logo and font usage on all collateral and signage.
Don't Forget the Little Things
Your national and regional ad campaigns will turn heads, but it's often the small things that you and your franchisees need help with the most. Business cards, POP displays, window graphics – the things that need to be updated and ordered frequently can cause a logistical nightmare. Having a place for franchises to quickly reorder these supplies without the major headache of having to onboard a new vendor, send files, or meet a minimum order will streamline the process.
We can do everything as small as business cards and pens, all of the way up to grand format signage and interior décor with speed and convenience. No job is too big or too small for us.
Make it Easy to Order Marketing Materials
We've already established that maintaining franchise brand consistency is important across ALL channels on all materials. When you partner with Big Visual Group, we can work with you to create pre-approved and on-brand templates that franchisees can order so they never have to look for other options (go rogue), which is when consistency problems usually start.
We will work closely with you to put a system in place that is capable of delivering our products and services across all of your franchises.
As your sign and print partner, we invest in the relationship. We take the time to understand your brand and become part of your team. We don't just take and deliver orders. We work to ensure that the products we are producing will be the answer to you and your franchisees' challenges.
Our company is a one-stop shop. We can concept, design, produce, and install anything for your franchise. This relationship is one that benefits both the franchisor and franchisee. As you focus on the needs of your customers, let us fulfill your branding, signage and printing needs. Contact us today to start the relationship.
You may also be interested in: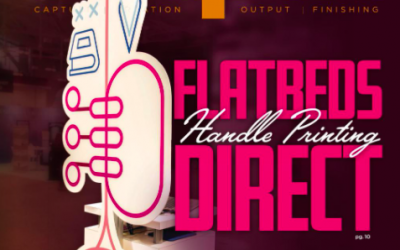 Digital Output took notice of Big Visual Group's flatbed printing capabilities in their November 2020 issue. We were honored to be featured as the cover story. We regularly update our flatbed equipment and try new technologies to increase our production capacity...