3 Reasons to Choose Dye-Sub Fabrics
One of the biggest, baddest machines in our production facility is the dye-sublimation printer. Often referred to as the "dye-sub," this specialty printer does not just print ink on top of surfaces; it infuses fabrics with ink. The unique process leads to some great advantages when it comes to creating fabric
print products
.
Using heat and pressure for optimal fabric printing results, your design is printed directly to fabric with dye-sub ink. The dye-sub print is then run through a belt calendar, which reaches temperatures of 400 degrees and converts the ink into a gas.
It applies pressure, impregnating the uncoated fabric with the ink, so to speak. Rather than ink resting on top of the coated fabric as with other digitally printed fabric methods, the ink is infused in the fabric's very fibers. You can stretch or fold it without causing damage to the design. Amazing!
We use our dye-sub printer exclusively for fabric products popular in the trade show and retail categories. Why are more people opting for dye-sub fabrics than ever before? There are three big reasons:
1. More Vivid
When using a dye-sub printer, images and colors on fabrics come out clearer. With other printers, you can still see individual tiny colored dots if you look closely. But with dye-sub, the fabric is infused with the ink and the dots are not present.
2. Longer Lasting
You can wash, iron, fold, and stretch dye-sub fabrics without causing damage. In contrast, an ink design resting on top of a fabric can fade or become cracked or scratched.
3. Portable
Since the fabrics are light and can be folded and reshaped without sustaining damage, they can be shipped or carried all over the country inexpensively and efficiently.
Big Visual Group owner Scott Snoyer explains: "Years ago if you wanted a trade show display, you made it out of hard panels — big things that were hard to transport around. Nowadays, most trade show booths are constructed from pieces of aluminum extrusion with a piece of dye-sub fabric (with a silicone edge) sewn across it."
The advantages of dye-sub fabrics are clear. If you need table covers, stage backdrops for concerts, bike-rack covers, flags, tent canopies, and more for your event or shop, give us a call or shoot us an email!
You may also be interested in: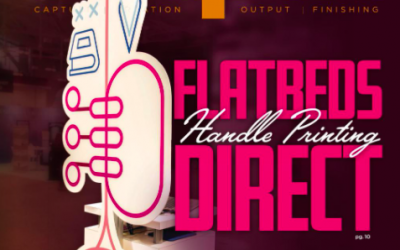 Digital Output took notice of Big Visual Group's flatbed printing capabilities in their November 2020 issue. We were honored to be featured as the cover story. We regularly update our flatbed equipment and try new technologies to increase our production capacity...