10 BIG Things From the Past Year (or so)!
In the midst of our BIG move, we realized that we have been a part of several BIG moves or changes over the last year or so. It's about time we reflected on them, so here they are:
Here at Big Visual Group we are constantly making improvements to increase our production, offerings and efficiency. In the midst of our BIG move, we realized that we have been a part of several BIG moves or changes over the last year or so. It's about time we sat still for a minute to reflect on them, so here they are.
Name Change.   
In early 2012 we introduced our new Big Visual Group name and brand. The decision to go this route was a consideration for our future.  Our business has grown and changed so much over the last  2 decades that it was time for us to communicate our current and future capabilities with a change. BIG things have happened and we are excited for what the future holds.
Best Year.
2012 was our best year in the 18 years we have been in business. Thanks to our loyal and new customers as well as the support of our unbelievable staff, we were able to deliver bigger and better products and service to you. Whether this was through our expansion of capabilities, focus on communications or investment in our efficiencies we hope that you felt the impact as much as we did.
Dye Sublimation.
When it comes to customizing fabric for use in signage, table throws, flags or for other advertising purposes the process matters.  In 2012 we implemented the ability to deliver the highest quality in dye sublimation printing to you. Others may claim to offer the same quality but the difference is that we use *true* dye sublimation. This ensures that the finished product has better dye saturation and will stand up to laundering.
New Building.
The purchase of our new home was a really BIG step in the right direction.  We will be consolidating our team and services under one roof, improving efficiencies (both in process and in energy use), boosting production and making improvements to your experience when you visit.  You should feel the positive effects of all of these changes immediately. Saving money, time and headaches means a win/win for us all.
Architectural Sign Division.
Early in 2012 Big Visual made the decision to expand the architectural division of the company.  There was a clear opportunity for us to offer additional services to our growing list of comprehensive capabilities. We achieved this by adding Tony Hatchell, former owner of August Enterprises, to the team. This division continues to grow in leaps and bounds.
Tradeshow Division.
In the summer of 2012 Big Visual acquired Integra Display and brought it's owner and industry veteran, Steve Curtsinger to the team. This move boosted our already successful tradeshow design, manufacturing and fulfillment to the forefront as a cornerstone service for our Brand.
Refocus on Sustainability Initiative.
By following SGP (Sustainable Green Printing) criteria, we are constantly making efforts to reduce more waste and recycle more products and materials.
G7 Certification.
For graphic designers and brand managers, color accuracy in printing is critical. We pride ourselves in this area and in 2012 gained G7 certification. This means that we use the G7 Proof-to-Print Process and use the most modern technology, techniques, and press controls to produce a close visual match from proof to print.
3M Scotchprint Authorized Manufacturer Certification.
In 2012 Big Visual acquired the difficult to attain 3M Scotchprint Authorized Manufacturer certification for quality assurance. This provides a warranty that we will stand by our products and processes, and that the 3M brand will back us up.
Customer Satisfaction.
Big Visual is proud to report that we obtained a 97% overall customer satisfaction rating, according to a 2012 survey conducted by a 3rd party research firm. While our first reaction is to look at that number and hope we can make it right with the "other 3%" we realize that 97% is a huge achievement! Customer service and satisfaction have always been a top priority for us and we are honored to have earned your trust over the years. To both our long-time loyal and new customers, we sincerely thank you.
You may also be interested in: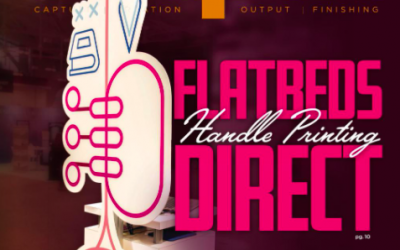 Digital Output took notice of Big Visual Group's flatbed printing capabilities in their November 2020 issue. We were honored to be featured as the cover story. We regularly update our flatbed equipment and try new technologies to increase our production capacity...