2013 was amazing; and it's only going to get better as we move forward into this, our 20th year, making signs and serving our customers. To both our long-time loyal and new customers, thank you for inviting us to be your sign and print partner. Continuing a tradition we began last year, we would like to share with you 10 BIG things from 2013.
1. Inc 5000 Award
In 1994, we began as a small cut-vinyl sign shop. Twenty years later, according to the most recent Inc 5000 list, we are the top sign company in Tennessee and the fastest growing sign company in the country.
2. Open House
We learned a very important lesson at our Under the BIG Top open house event last fall. SEEING IS BELIEVING. It's impossible for us to communicate how BIG we really are, or the scope of what we can do, over the phone or by email. If you haven't been to our new 40,000 sf space, please call and schedule a tour with your sales representative. We'd love to show you around! You can also browse our Open House photo album on Facebook.
3. BIG Move
Speaking of our new space, last spring we consolidated all of our equipment and staff into one very big facility in the Crossings area of Nashville. With everything and everyone under one roof, we can serve our customers better and more efficiently.
4. NEXT Awards
The NEXT Awards, presented by the Nashville Chamber of Commerce and the Entrepreneur Center, celebrate excellence in business and entrepreneurship in Middle Tennessee. We were honored to receive the award for GROWTH in the Products/Services category.
5. Indigo Printer and Finishing Equipment
For a large format printer, we did something a little unorthodox. We made an investment in a top-of-the-line small format digital printer and complementary finishing equipment. Why? We found that there was a demand for small format printing from our customers and we wanted to fulfill this need in-house to avoid outsourcing and maintain control over quality and speed. Now, we can manage all of your digital printing and finishing needs, big or small. And our HP Indigo 5600 is the newest – and best – Indigo in Nashville. Contact your sales representative for a free paper sample book.
6. Upgrades in Flatbed UV Technology and Latex Ink Technology
Our strategy, and our competitive advantage, is to be a leader in the technologies that drive our industry. Our equipment upgrades allow us to provide our clients with the latest "green" and sustainable printing options available, which also create a safer work environment for our team and lessen our impact on the planet.
7. G7 Certification for Color Accuracy
For graphic designers and brand managers, color accuracy in printing is critical. We pride ourselves in this area and in 2012 gained G7 certification. This means that we use the G7 Proof-to-Print Process and use the most modern technology, techniques, and press controls to produce a close visual match from proof to print. To maintain this certification we are required to test and submit color swatch samples to the governing organization on a regular basis.
8. Continuing Education: 3M Manufacturing and Installation Certification
In 2012 Big Visual acquired the difficult to attain 3M Scotchprint Authorized Manufacturer certification for quality assurance. This provides a warranty that we will stand by our products and processes, and that the 3M brand will back us up. Our installers go through rigorous ongoing manufacturer training to maintain this certification.
9. Wide Format Imaging Top Shop
Again this year, Big Visual Group ranked #20 nationally and #1 in Tennessee for Top Shop from industry trade publication Wide Format Imaging. Another BIG honor!
10. Instrumental in the Economic Development of the Crossings Area of Nashville
Mayor Karl Dean has fostered and often recognized the transformation of the newly redeveloped Crossings area in South Nashville. We're proud to call it home, with 20 successful years under our belt here. In 2013, we made an investment in the Crossings with a major expansion utilizing the vacant Pool and Spa Depot property. And yes, we kept a couple of the pools!
Honorable Mention: Ping Pong Tournament Champions
In the fall, we were challenged via Twitter to a ping pong tournament by Thrive Marketing Group. They were gracious hosts and we all had a great time. It was a very close set of matches, but BIG came out on top. So if you're up for a game of table tennis, hit us up on Twitter!
You may also be interested in: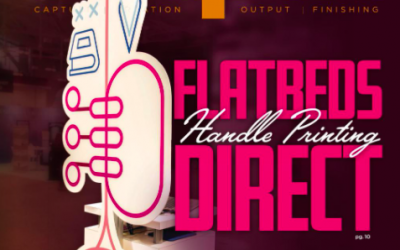 Digital Output took notice of Big Visual Group's flatbed printing capabilities in their November 2020 issue. We were honored to be featured as the cover story. We regularly update our flatbed equipment and try new technologies to increase our production capacity...