Nashville Predators Team Store
The Nashville Predators were ready to transform an old storage space into a hockey retail store at their home base, Bridgestone Arena. Since Big Visual Group is the official sign and printer partner for the Predators, it was a natural fit to hire our team to do project management, manufacturing, and installation all of the new Nashville Predators Team Store's signage.
When it comes to retail store signage, we always have a lot of bases to cover to establish a great user experience for the shoppers. Working on this Predators store was no exception.
Their project goals:
Create a striking and easily spotted sign indicating the store's entrance in the midst of a bustling downtown center with multitudes of signage competing for customers' attention
Showcase team apparel and products in an exciting and easily navigable way
Increase revenue by making a busy retail center more easy to navigate and create more customer transactions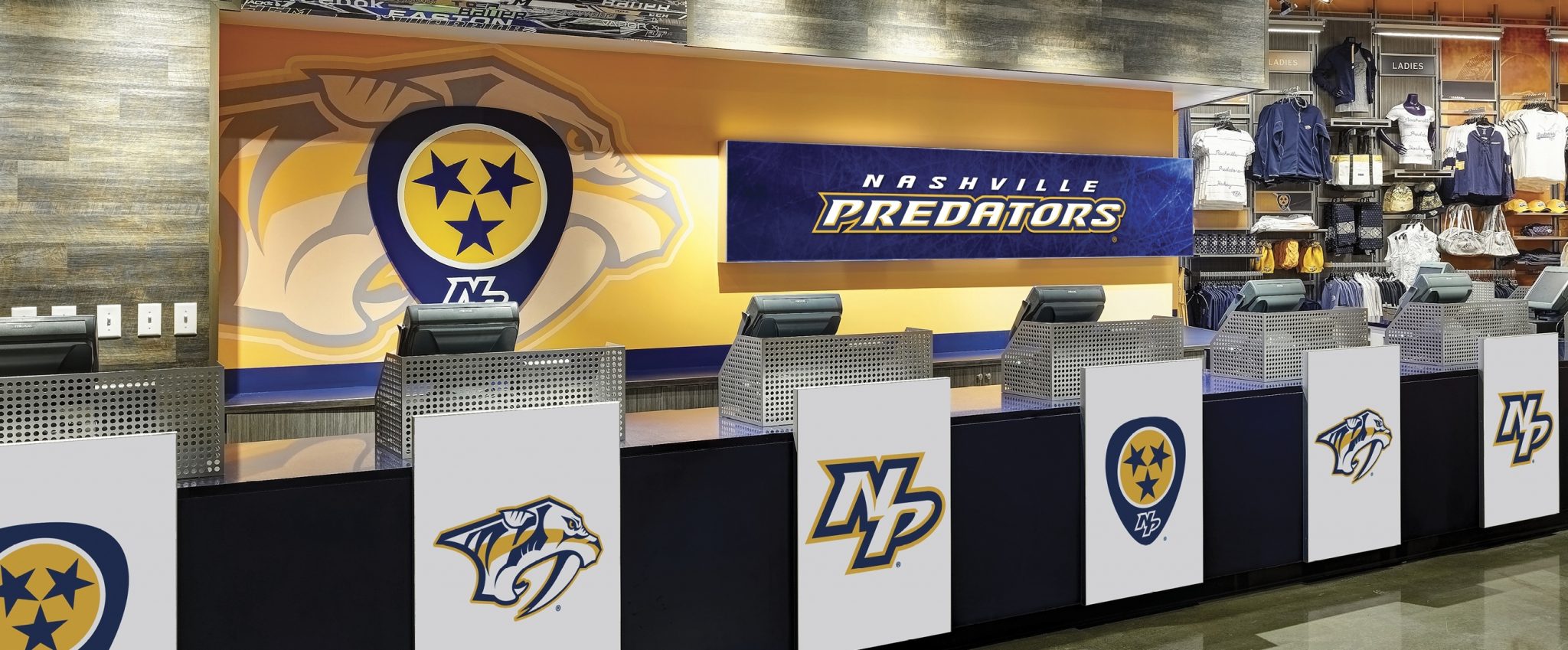 We wanted to make sure that you could easily spot the store's striking exterior signage whether you were walking around downtown Nashville or wandering through Bridgestone Arena. From the outside of the arena, we knew that our electric LED signs would be hard to miss. We were also confident that people would notice the large marquee sign from the street.
Once inside the Nashville Predators Team Store, we wanted it be an easy sell for all of the products. We ensured this by using eye-catching signage that is strategically placed throughout the store. For instance, we created a digital wrap for the giant point-of-purchase display in the middle of the store. We also created header inserts to make it easy to navigate and find desired items. For the cash register, we produced a visually inviting environment full of digital prints featuring memorable Nashville Predators logos. Every Big Visual Group product was intentionally created to increase revenue for the Nashville Predators and help shoppers easily navigate the store.
In December of 2014, the new Nashville Predators Team Store opened to the public with our work sprinkled throughout the space. Whether fans are attending a Predators game or walking around downtown Music City, their desire to purchase great hockey gear and see some great retail branding can be found at the team store that we helped invent.