Meet the Team: Scott Reeves
Title: Production Assistant
Roles: Finisher, Sign Creator, Vinyl Applicator
Hailing from Tullahoma, Tennessee, Scott Reeves came to Nashville for an education in design, fell in love with the city, and decided to call it home. After school, Scott ended up working at a sign shop in Hendersonville, Tennessee, that he discovered through a former colleague. In this role, Scott worked his way up and wore several hats. "I designed things, cut signs, and dabbled in a little bit of everything," says Scott. Though it was a small shop, Scott enjoyed the busyness and variety of hands-on work he experienced.
After a season of work at that sign shop, Scott took on a role at Goodwill Industries of Middle Tennessee, handling everything from creating signs to marketing tasks, such as emails and billboards. After that adventure, Scott decided to take a two-year sabbatical doing some freelance work around the East Coast. It allowed Scott the chance to take a step back and re-evaluate his interests.
Everyone at Big Visual Group has truly made me feel at home, and it's easy to work hard when you're surrounded by other hard workers.
It wasn't long, though, until Scott took a dive back into some design work for a communications system, which made him homesick for Nashville. Scott says, "I'm a big Nashville Predators fan and was familiar with Big Visual Group's work for the team. Seeing the numerous products they created for the Predators reminded me of my love for creating signage." When the opportunity came about to apply at Big Visual Group, Scott jumped at it, and he's been working on our team for almost a year now.
In his role at Big Visual Group, Scott does a little bit of everything as a Production Assistant in the Finishing Department. "I help build the signs, apply vinyl, package product for shipping, and even help out in other departments when needed," says Scott. He loves the finishing team and can't say enough positive things about the good, hardworking group of guys he has the honor of serving alongside! "Everyone at Big Visual Group has truly made me feel at home, and it's easy to work hard when you're surrounded by other hard workers," affirms Scott.
Scott appreciates that the team at Big Visual Group can do pretty much anything a customer needs. "While working at other sign shops, people would come to us with issues, and we weren't able to solve their problems. At Big Visual Group, we don't have those limitations," says Scott, who enjoys seeing the comfort this gives to Big Visual Group's customers.
Outside of work, Scott is a proud outdoorsman, especially when the weather is nice. An avid hiker and camper, Scott also enjoys kayaking. He also expresses his creative talents through making stained glass—from small windows to ornaments—and he loves to paint with oil and pastel, as well as draw with charcoal. He is a talented creative that we're lucky to have on our team!
You may also be interested in: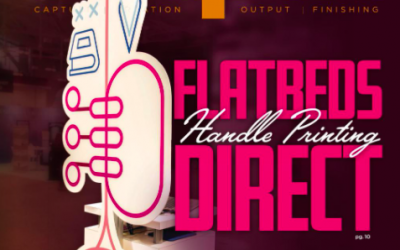 Digital Output took notice of Big Visual Group's flatbed printing capabilities in their November 2020 issue. We were honored to be featured as the cover story. We regularly update our flatbed equipment and try new technologies to increase our production capacity...