Meet the Team: Matt Atkinson
Title: Small Format
Roles: Printing and Bindery in the Small Format Area
Big Visual Group Employee Since: 2014
Matt Atkinson grew up in Remington, Virginia, just outside of Washington, D.C. His dad worked for the U.S. government, which kept his family in the D.C. area for 30 years. After finishing up school in Virginia, Matt ventured off to college at The Art Institute of Pittsburgh. Matt says, "It was in a high school art class that a representative from The Art Institute came to visit, and after his talk, it just clicked for me that it was where I was supposed to be."
Matt graduated from college in 1997 with his degree in visual communications (graphic design). Being more of an "on the move" and "work with his hands" type of guy, Matt quickly learned that sitting behind a desk was not his thing. He says, "I used to fill up coloring books. My mom would buy me one, and I'd fill it up that day. I always liked art and knew that I was born with a special creative talent. If I have a talent, it's art, for sure. I am an artist at heart."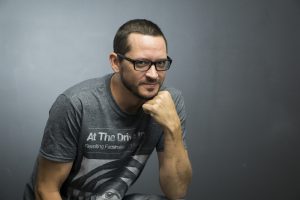 After Matt's wife was accepted at Belmont University in 2005, they made the move to Nashville. While already doing some print work in Virginia and working in various print shops since college, Matt learned that Nashville was a great city for the print industry, so it seemed obvious to look for work in printing when they were preparing to move.
Once in Nashville, Matt worked in a few print shops around town before joining the Big Visual Group team in October of 2014. After his first interview, everything just seemed to click. As for his daily responsibilities on the job, Matt wears a lot of hats. He handles print and bindery in the small format area, running 15 machines. From printing to dye cutting to binding, every day is different for Matt. He also executes corner rounding, UV coating, and even prints envelopes on occasion.
When asked why he loves working at Big Visual Group, Matt says, "I'm really comfortable with what I do, so the work comes natural to me." He also has high regards for his coworkers, saying, "All the people I work with are great. They've built a good environment, and it doesn't hurt that we're the biggest sign shop in town!" Matt also believes that Brand Imaging Group's quality service is what makes the company such a special place. He says, "There's such a variety of things we can do to help clients convey their message. A client can walk in and have an idea of what they want, and then we can show them things they never realized were possible."
Outside of work, you'll find Matt spending quality time with his wife and two daughters (one 6 years old and the other 6 months old). Matt loves watching sports, and the family enjoys being outside biking, hiking, and spending weekends on the lake.
You may also be interested in: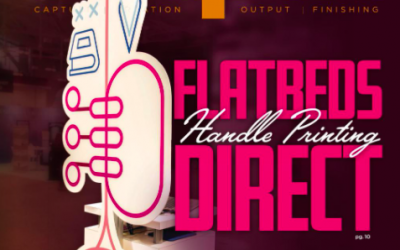 Digital Output took notice of Big Visual Group's flatbed printing capabilities in their November 2020 issue. We were honored to be featured as the cover story. We regularly update our flatbed equipment and try new technologies to increase our production capacity...