Meet The Team: Keith Orser
Title: Sales Consultant
Roles: Relationship Builder, Client Cultivator, Lifelong Learner
With a childhood passion for baseball, Keith Orser made his way from Sarasota, Florida, to play on the baseball team at Trevecca Nazarene University in Nashville, Tennessee. Upon graduation, Keith decided to stay inMusic City, where he found a job in the signage business. "A friend of mine worked for Jarvis Sign Company, and I had given myself five years to meet somebody. I told my mom that if I hadn't met somebody after five years, I was going to move back home," he chuckles. That necessity proved to be a win-win for Keith, as he met a girl who would eventually become his wife and began his career in the signage industry within that five-year mark.
"The talent in this building is amazing. People take pride in what they do—not only in their departments but in the entire company. Big Visual Group is a fun place to work, and you don't find that everywhere."
Before Keith got the opportunity to join the Big Visual Group team in February of 2018, he served at Jarvis for a little over 16 years. "I have an art background, and when I first started there, I was doing a little bit of everything," says Keith. "I quickly learned that I wanted to design and eventually learned the trade. The design work kept me at Jarvis for all those years," he adds. Keith had always known about Big Visual Group and followed the company's social media accounts, where he kept up with the many exciting changes and growth over the past few years. "Big Visual Group was always intriguing to me because of their in-house technology that far exceeds anything I've ever seen at other companies," says Keith.
At Big Visual Group, Keith decided to make the switch from design to sales because he liked the thought of creating relationships directly with customers and helping them find sign solutions that would best meet the specific needs of their businesses. "I enjoy the one-on-one time with customers and the opportunities to move beyond the office environment to meet with potential new customers," affirms Keith. He also has a good working knowledge of Big Visual Group's other departments, which helps him in being able to fully communicate the full spectrum of capabilities that the company can provide to its customers.
As for Keith's daily responsibilities, you'll find him writing up quotes, cultivating new client relationships, and following up with current customer needs. "I'd be wrong to say that my new responsibilities haven't been a huge learning curve, but I love the challenge," says Keith. Among his favorite things about being a part of the Big Visual Group team are the work atmosphere and the "all-in" team spirit. He explains, "The talent in this building is amazing. People take pride in what they do—not only in their departments but in the entire company. Big Visual Group is a fun place to work, and you don't find that everywhere." As someone who loves learning new things, Keith has enjoyed being a sponge over the last three months at Big Visual Group. "I like seeing the machinery at work, and it's amazing to see all the technology and creative services we have available," says Keith. He also believes that customers should choose Big Visual Group because of the sheer quality, convenience, and turnaround time that far exceeds any competitor.
Outside of work, you might just find Keith on the golf course, as he's a huge golf fan. Before anything else, Keith doesn't miss any opportunity to spend time with his wife, Lauren, and his two daughters, Parker (age 8) and Kendall (age 6). The Orser family loves to travel to new and fun places together, and Keith loves to be outdoors whenever possible. Keith is also a big fan of the Nashville Predators, and he's been a part of the team's game operations team since 2006. Being a Preds fan is extra fun for Keith since Big Visual Group is the team's official sign and print partner!
You may also be interested in: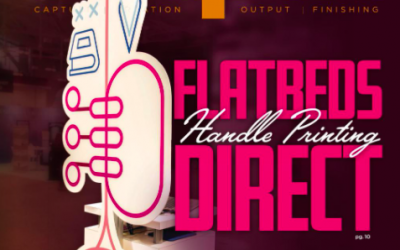 Digital Output took notice of Big Visual Group's flatbed printing capabilities in their November 2020 issue. We were honored to be featured as the cover story. We regularly update our flatbed equipment and try new technologies to increase our production capacity...