Meet the Team: Kassie Lapointe
Title: Graphic Designer
Born and raised just outside of Boston, Kassie Lapointe came to Nashville after a brief spell in Los Angeles. She joined the Big Visual Group team in October of 2017 and put her incredible talents to use on our graphic design team where she now makes client's ideas come to life.
Attending college and earning her degree in fine arts set her up to work in a variety of design and marketing roles after graduation. She gained experience in the real estate and architecture industries before working at Big Visual Group.
She loves the variety of projects she gets to work on at Big Visual. "It's really cool because every day is something different – I can be doing everything from business cards to a lot of dimensional work," said Kassie. "I like seeing our hard work all around town and seeing it all become a reality. Before at my other jobs, I did a lot of digital work, so when I see something large scale now it is very cool."
In addition to the project variety, she enjoys the family at Big Visual Group and how everyone works together and supports one another. This helps her and the rest of the team create the best work possible.
"We are willing to take all the steps to provide the best products," said Kassie. "We are really innovative and are always trying new ways of producing things. From what I have seen, everything brought in for us to do is always done. We do everything we can to make something come to life."
When she's not brightening up the Big Visual Group office and shop with her positive attitude, Kassie spends her time camping and exploring the outdoors. She also loves keeping her creative side occupied with DIY projects, like restoring old furniture. And she's been wedding planning! Kassie and her fiancé are tying the knot this October. We wish them all the best in this new chapter of life and consider ourselves fortunate to have such a great person like Kassie on our team.
You may also be interested in: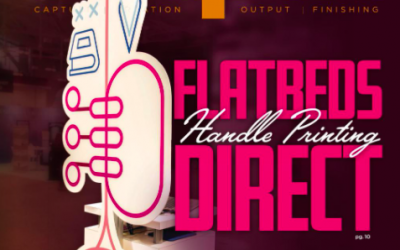 Digital Output took notice of Big Visual Group's flatbed printing capabilities in their November 2020 issue. We were honored to be featured as the cover story. We regularly update our flatbed equipment and try new technologies to increase our production capacity...